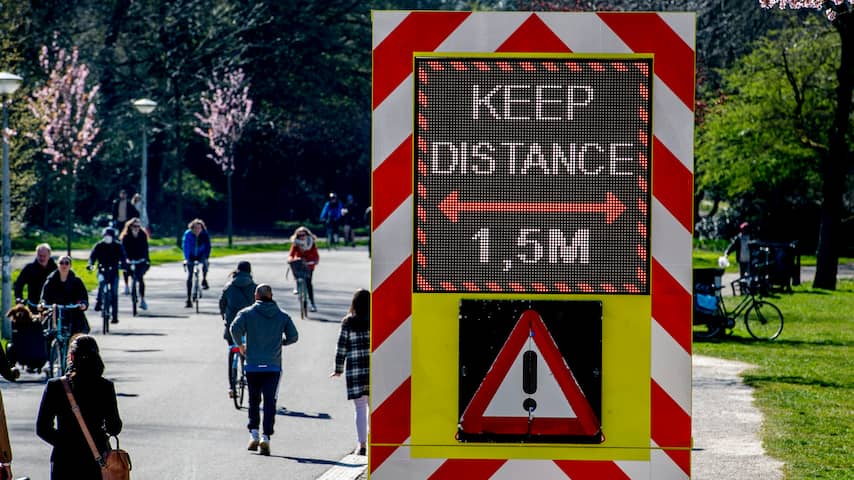 ---
The Netherlands, like many other countries, has been affected by the coronavirus. Many people have been infected with the virus or have even died. To ensure that the virus does not spread further, the government has introduced a number of rules. Many things that are normally allowed are no longer possible at this point. So what has changed and what do you have to be aware of? NU.nl has listed the most important information for you.
This article has been updated after the press conference on the 19th of May. It will not be updated in the future. This means some of the information it contains could be outdated
The coronavirus can cause a great number of symptoms, such as fever, coughing and difficulty breathing. Mild symptoms appear similar to a cold, but the virus can also lead to an pneumonia, kidney failure, or death. The coronavirus causes the disease COVID-19.
The coronavirus appeared in China in December 2019, but has already spread worldwide. The Netherlands was affected by the virus first at the end of February.
Currently, there are tens of thousands of people infected with the virus in the Netherlands. A small portion of the infected people die from the coronavirus. The virus is seemingly extra dangerous to people over the age of 70 and to people who already have health-related problems.
Which measures apply in the Netherlands?
To prevent further spreading of the virus, the cabinet has determined a set of new rules. As of June 1st, the measures will be somewhat relaxed, but if the virus recontinues to spread further, it can also be reversed.
These are the most important measures:
Do not shake hands.
Wash your hands often with soap, for at least twenty seconds.
Avoid crowds and if that doesn't work, go elsewhere.
Keep 1.5 meters distance from other people.
Cough and sneeze in your elbow.
Nursing homes where no infections have been detected will open again as of May 25. One visitor per resident is allowed.
Find out more about individual measures below.
Which measures apply if I want to go outside?
The rule that you are not allowed to participate in group formation expires on June 1st. However, people still have to keep 1.5 meters distance when meeting up with a group of friends in a park for example. If groups do not comply with that rule, each individual can be fined up to 400 Euros. There is an exception for family members.
People of 70 years and up or people with a fragile health must be extra careful. For them it might be wise to stay home.
Separate rules for children up to the age of twelve
Children up to the age of twelve are allowed to get close to each other and play outside. They are also allowed to play sports with each other, without keeping 1.5 meters distance from one another.
Children in the age range twelve to eighteen are also allowed to play sports, but they do have to keep 1.5 meters distance from one another.
As of May 11, adults are also allowed to exercise / play sports, but only outside and at 1.5 meters distance from others. Contact sports can therefore not be practiced.
For everyone, children included, who plays sports the following applies: no matches are played, changing rooms and canteens remain closed and afterwards you shower at home.
I think I'm infected. What should I do?
For mild symptoms such as a runny / stuffy nose, sore throat, cough and headache, it is not necessary to contact your doctor. Stay at home and avoid infecting other people. With serious symptoms such as a fever of more than 38 degrees, shortness of breath or pneumonia, call your doctor immediately.
If you have a fever and / or experience difficulty breathing, the whole family stays home. When you are symptom-free for more than 24 hours, you and your housemates are allowed to go outside again.
More and more sectors may reopen
Stores such as supermarkets, the market and clothing stores may remain open, but customers must keep their distance of 1.5 meters from others. Also libraries have reopened since May 11.
Natural areas, parks and beaches may also remain open. There, too, large groups are not allowed and people must keep at least 1.5 meters distance from each other. As of July 1, the campsites can also fully open again. Sanitary facilities still had been closed so far.
Public transport (such as the train and bus) has always continued to run, but will start running according to the full timetable again as of June 1. However, the urgent request is to make necessary trips only and to keep as far away from others as possible.
As of June 1, wearing a non-medical face mask in public transport is mandatory for everyone over the age of 13. People have to buy or make these masks themselves and can be fined for not wearing them.
Since May 11, contact professions are being carried out again. This means that hairdressers, beauticians and driving instructors are back at work. However, they must keep 1.5 meters distance from their customers as much as possible and an appointment must be made in advance. Customers who show symptoms and therefore may be infected with the coronavirus are not allowed to schedule a visit. Wearing a face mask is allowed, but not necessary.
Also relaxation of measures in schools
Elementary schools opened their doors again on May 11. Children are back at school for half of the regular hours. As of June 8, primary education opens up for the full 100 percent again, which also means that children can stay at school during their lunch break. Parents are asked to take their kids to school on foot or per bike as much as possible.
The childcare and after-school care follows the opening hours of the schools and the intention is to fully reopen again on June 8.
Secondary schools will reopen as of June 2. Here too, students and teachers must keep 1.5 meters distance.
MBO, HBO and university education will start again on June 15 with taking tests and exams and organizing practical lessons.
The central exams have been canceled. Other exams are taken in different ways as much as possible.
Major events have been canceled, the catering industry reopens with limitations
The catering industry can reopen again, with limitations, as of June 1, at 12PM. A maximum of thirty people, staff excluded, applies to restaurants and cafés.
Guests must make reservations in advance and of course cannot have any symptoms. Inside the catering business, the 1.5 meter distance must be observed, except people belonging to the same household. The expectation is that a maximum of one hundred guests will be allowed as of July 1.
There is no maximum number of people on terraces. However, all guests must have a seat and keep their distance from each other, unless they belong to the same household.
Cinemas, theaters, museums, theater- and concert halls may also open again on June 1, at 12PM. The same rules as in the catering industry apply. Major festivals and events have been canceled. They can only continue if there is a vaccine against the coronavirus.
Funerals, religious services and marriages may continue in the near future, as long as no more than thirty people are present. As of July 1, the number of people allowed present is expected to be a hundred.
If the virus remains under control, gyms, saunas, casinos and sports canteens can reopen again per September 1. People are allowed to practice contact sports again, both indoors and outdoors. Matches can be played again, but without an audience.
We hebben de belangrijkste informatie rondom het coronavirus vertaald zodat zoveel mogelijk inwoners van Nederland op de hoogte zijn. Een overzicht in het Nederlands vind je hier en op onze dossierpagina vind je alle actuele informatie en achtergronden.
---
---